Discover & Be Inspired
Content is more than just a tool for TAKEONE.
We create content and business together with respect for

IP

.
TAKEONE has been walking in one direction called the cinematic game. Cinematic game is a new type of game that combines visual elements and storytelling of video content such as films and dramas with profitability and interactive nature of games.
By extending the existing IPs such as films, dramas, webtoons, etc. to the game domain, cinematic games expand the universe of IPs and characters and allow you to continuously and proactively enjoy the content that you were not able to do so due to time and space constraints. We are working to overcome the limitations of game IP and expand it to the public to allow more global users to easily access and enjoy games by combining the popularity of dramas and films with the nature of games.
For content convergence business, TAKEONE aims to not only supply and demand worldwide famous IPs but also create masterpiece IPs that can be respected. We will create a new paradigm of business by creating Korean Wave-based source IPs that can represent Asia and connecting them with games and various genres.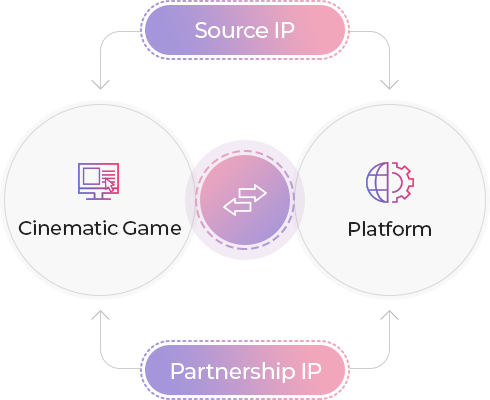 GENRE
Pioneering a cinematic game genre that combines entertainment elements with games
CONTENT
Various content business based on IP (Intellectual Property) planning and production capabilities
PLATFORM
Two-way platform using external brand IP and internally created IP